Mindray BC-760 & BC-780 - Auto Hematology Analyzer with ESR - Above and Beyond
Mindray BC-760 & BC-780 – Penganalisis Hematologi CBC & ESR yang Ringkas dan Terintegrasi untuk Lab Berukuran Kecil hingga Menengah.
Hematology Mindray BC-760 & BC-780 adalah penyedia solusi medis terkemuka di dunia, Seri Mindray BC-760 yang baru ini merupakan seri penganalisis hematologi revolusioner yang menggabungkan tes hitung darah lengkap (CBC) dan tingkat sedimentasi eritrosit (ESR).
Dilengkapi dengan Teknologi fluorescent SF Cube, Mindray BC-760 & BC-780 memberikan penghitungan dan diferensiasi sampel abnormal yang handal
Diferensiasi sel yang lebih halus dan andal
Teknologi analisis fluoresen 3D memungkinkan diferensiasi yang andal antara sel imatur dan sel abnormal lainnya, seperti granulosit imatur (IMG), retikulosit (RET*), dan fraksi trombosit imatur (IPF)
More reliable measurements for low-value samples
Platform analisis fluoresensi 3D Mindray BC-760 & BC-780 dirancang dengan beberapa mode analisis WBC-3x dan PLT-O 5x penghitungan ganda untuk membantu memastikan keandalan yang lebih tinggi untuk sampel WBC dan PLT bernilai rendah.
Selain itu, fungsi de-agregasi PLT dapat mengurangi pekerjaan peninjauan yang rumit.
Lebih komprehensif dengan peringatan untuk abnormal
Mindray BC-760 & BC-780 memberikan daftar rinci lebih dari 40 pesan cepat, termasuk pesan WBC, pesan RBC, dan pesan PLT.
Hal ini memungkinkan teknisi laboratorium untuk secara intuitif dan cepat mengidentifikasi sampel abnormal dan melanjutkan lebih jauh dengan sampel secara tepat waktu. Hal ini pada gilirannya membantu untuk menghindari kesalahan diagnosis penyakit darah serta laporan palsu.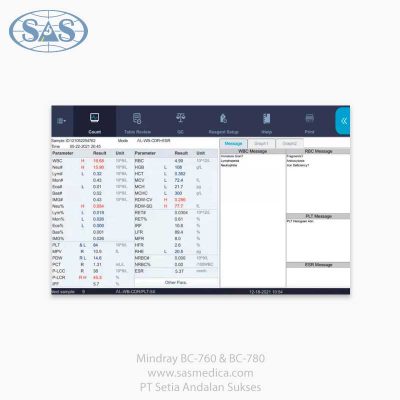 Mindray BC-760 & BC-780, Melebihi Harapan Anda
Seri ini, merupakan dua model botol terbuka Mindray BC-700/BC-720 dan dua model autoloader BC-760/BC-780, dirancang untuk memberdayakan laboratorium volume menengah dengan teknologi diagnostik canggih yang diterapkan dalam produk premium.
Keterbatasan penghitungan PLT tradisional
Dalam metode impedansi tradisional, PLTs tunduk pada gangguan yang dapat menyebabkan hasil palsu tinggi atau rendah palsu (seperti yang ditunjukkan pada gambar).
Setelah laporan kesalahan dibuat, mindray bc-760 & bc-780 akan secara langsung mempengaruhi penilaian dan pengambilan keputusan dokter. Hasil yang dilaporkan pada tingkat keputusan klinis terkait dengan keselamatan pasien.
Oleh karena itu, hasil PLT yang akurat sangat penting dalam praktik klinis
PLT-H optik di setiap tes CD
Untuk mengatasi masalah di atas, kami telah mengembangkan parameter baru PLT-H. Ini menggabungkan PLTs kecil dari metode impedansi konvensional dan PLTs besar dari metode optik. Solusinya dapat menahan gangguan dalam deteksi PLT konvensional tanpa memerlukan reagen tambahan.
Sasmedica.com – Mindray BC-760 & BC-780 – Auto Hematology Analyzer with ESR – Above and Beyond, Mindray berkomitmen untuk menyediakan solusi IVD yang andal dan berkualitas tinggi untuk memperkuat kepercayaan, memberikan hasil yang akurat sambil memenuhi tuntutan laboratorium akan efisiensi di seluruh dunia.
Dengan investasi berkelanjutan kami dalam R&D, mindray akan terus memajukan teknologi perawatan kesehatan untuk memenuhi kebutuhan pelanggan kami yang terus berkembang.
(Klik Tombol Whatsapp pada kanan bawah layar anda untuk terhubung dengan marketing Sasmedica.)